BRUTUS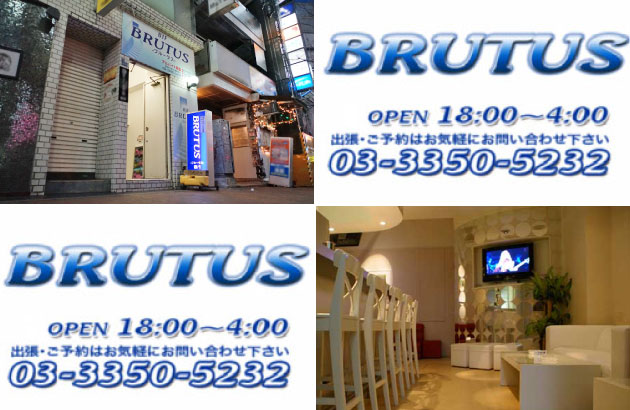 INFORMATION
"BRUTUS" is an establishment on Nakadori, the main street of Shinjuku 2-chome.
It is a historical boys bar with over 40 years of experience in Shinjuku 2-chome where establishments usually don't have a long life.
In the spacious and elegant atmosphere of the establishment, you can enjoy conversations with staff and karaoke!
Young men / Sportsman / Refreshing / etc many types are waiting for you!
Trips away from the establishment are also OK! For those who cannot come to the shop, we will travel to your home / hotel.
Please feel free to contact us.
Nomination fee
60 minutes 10,000 JPY Enjoy a date outside the establishment at a restaurant, food and drink only♪
90 minutes 14,000 JPY Possible to go somewhere within walking distance from our shop ♪
120 minutes 17,000 JPY Within the Yamanote Line area ♪
180 minutes 24,000 JPY Travel time of up to a 1 hour round trip ♪
Long 30,000 JPY A general stay from 22:00 to 10:00 the next day ♪
* The finish time of 10 o'clock the next day may be changed depending on the circumstances of the nominated staff
Nomination fee within the establishment 1,200 JPY
※Various credit cards available!