EAGLE TOKYO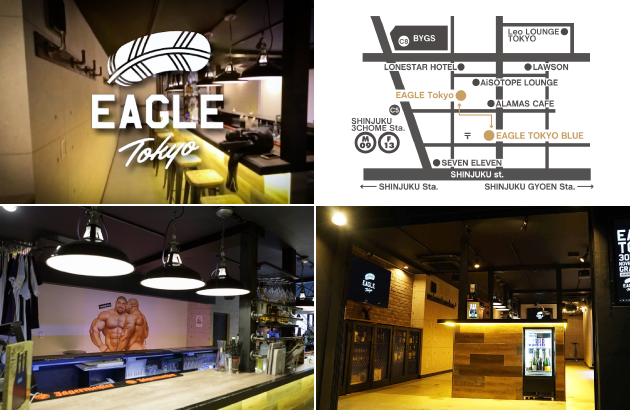 Coupon
「Mention about「Tokyo Gaytown Guide」」Tequila shot 1 cup service
URL
https://www.eagletokyo.com/#home
Address
2nd 1-21, Shinjuku, Shinjuku-ku, Tokyo Casa Verde 1st floor, 1st basement 【MAP】
Tel
03-6874-0176
Mail address
eagletokyo@eagletokyo.com
Business hours
MON-THU 9:00pm – 4:00am
FRI-SUN 6:00pm – 4:00am
Genre
Gay bar / Mix bar / Club
Charge
Menu
Gin Tonic 700yen
Vodka Soda 700yen
Tequila Shot 500yen etc…
No cover charge
INFORMATION
Welcome to EAGLE TOKYO, Japan's largest gay bar group.
Our establishment is a place where people from various countries can enjoy themselves.
The Brooklyn-style shot bar "EAGLE Tokyo" quickly became an Instagram spot with the mural of the popular gay artist "Koraiya", Japan's largest gay bar "EAGLE TOKYO BLUE" where you can enjoy showtime with the theme of sea and blue, both can be enjoyed casually without charge.
Nipon Danji (Japanese manhood), a brand that introduces gay artists to the world, sells original products and regularly publish magazines.