ISLANDS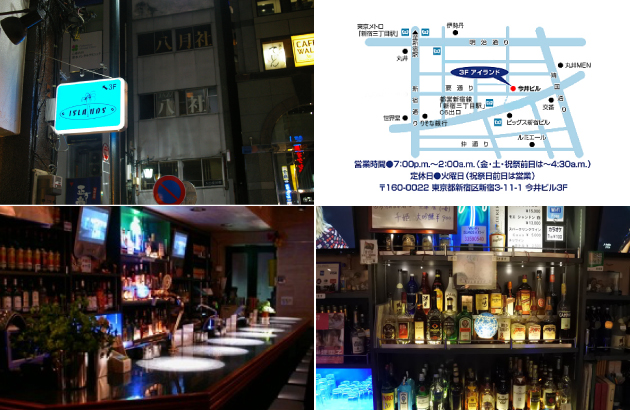 Coupon
「Mention about「Tokyo Gaytown Guide」Student customers No charge fee!
URL
http://www3.plala.or.jp/islands/index.html
Address
3F, 3-11-1 Shinjuku, Shinjuku-ku, Tokyo 【MAP】
Tel
03-3359-0540
Business hours
18:00 ~ 22:00
Genre
Gay bar / Mix bar
Charge
1 drink + izakaya (table charge) from 1,400 yen
Set fee (bottle keep) 1,500 yen ~

Beer 800 yen
Whiskey from 800 yen
Cocktails from 800 yen
Shochu 800 yen
Soft drinks 700 yen

Shochu JINRO 20 degrees (new) 4,200 yen
Shochu JINRO 20 degrees (replaced from the second one) 3,900 yen
Canadian Club 7,000 yen
I.W. Harper 7,500 yen
Chivas Regal 12 years 8,500 yen
Tanqueray gin 7,500 yen
Tanqueray vodka 7,500 yen

Karaoke 1 song 100 yen
INFORMATION
The island is located in Shinjuku 3-chome. Opened in 1995 in Shinjuku 2-chome.
It moved to 3-chome in 2001. If you say "2-chome is still a little …", why don't you come to the island as the first step?
The location is on the way from JR Shinjuku Station to Shinjuku 2-chome.
Customers are in their 20s and 40s.
It is said that there are many ordinary office workers.
The atmosphere of the store is simple and modern.
The counter is 8 seats and the box seats are 14 seats, so even a large number of people are OK.
Usually, the shop is mainly for conversation, but there is also karaoke on the island.
All the staff are welcome, whether you are a frequent visitor to 2-chome or a beginner!
We are waiting from the bottom of my heart.