MIX CLUB QUEEN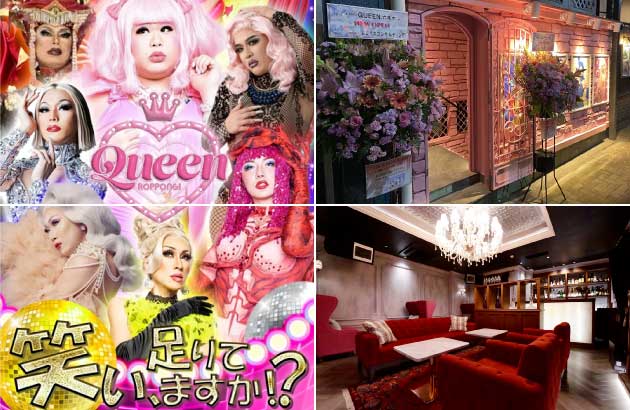 Coupon
「Mention about「Tokyo Gaytown Guide」, 20% off the total bill
URL
https://www.princegroup.jp/tokyo/r-queen/
Address
4-4-3 B1F Roppongi, Minato-ku, Tokyo 【MAP】
Tel
03-6804-3620
Business hours
Friday, 21:00-05:00
Closed on Sundays
Genre
Transvestite Bar / Mixed Bar
Charge
SET60min
Male ¥4,000 Female ¥2,000
Automatic extension (30 minutes) ¥2,000
Nomination fee ¥3,000
SC/TAX 20%/10%
INFORMATION
April 12, 2023 A 2-minute walk from Roppongi Station Yokohama's popular store mixclub Queen's second store,
New opening produced by Yamada Hoanita❣
Look for the pink bricks in front of Tokyo Midtown.
Roppongi has few gay bars and okama bars, so it's sure to become a new popular spot!
There are many okama shops all over Japan, but our shop has many famous drag queens.
It is a rare shop where you can casually drink with drag queens.
A familiar drag queen from the programs "Ariyoshi Japon", "Girojiro Ariyoshi", and "Nobunaka Nannan?"
Joanita Yamada and her Celestia Grown Arrom Namie Dita Starmine
Prism Uzushio Tsubako GAGA Chin Bouillabaisse Lady-J Clitria
Once you see the gorgeous costumes and makeup of drag queens such as, you will definitely be captivated.
And go-go boys, transsexuals, gays, pans, etc…
Don't miss the hilarious talk that the unique cast members who are not bound by the concept of gender unfold every day.
It's a shop that doesn't have a show time, but I'm confident that I'll be able to repeat it with a burst of laughter!
Business hours 21:00~5:00 Closed on Sundays
Open price 60 minutes all-you-can-drink Male 4,400 yen Female 2,200 yen *Separate SC 20%
If you want to have fun and drink at a reasonable price, or if you want to make some noise, come visit us.
First-time visitors are welcome! Women's party, after-party, men alone, women alone,
Groups, couples, cabaret clubs, lounges, after-sales at girls' bars
Please feel free to visit us when you come to Roppongi.